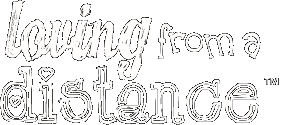 Long Distance Relationship Gift Ideas
Below you'll find awesome long distance gift ideas for your boyfriend or girlfriend that Frank and I recommend. Some of them are gifts we have given to each other, and others have been highly recommended by others who have shared with us their most memorable long distance gifts.
Featured: The Loving From A Distance Store!
Customizable gifts for long distance couples :)

---

Click here to view




**MOST POPULAR** Love knows no distance™ bracelets are our very own custom silicone bracelets. Hundreds of LDR couples from all over the world wear these bracelets to express their love from afar, as a promise to stay strong during their times apart, and show their long distance pride.

Send a bracelet with a gift message!

Order online or by mail with a printable order form!
---



Click here to view

So you've been sending emails and/or letters since you've started this long distance relationship. Have you ever thought of sending a telegram? Of course not! People say love letters are old-fashioned, but telegrams? ANCIENT!

Telegramstop.com uses the technology of today to bring back to life an old relic of the past. They will print and mail your telegram and ship it anywhere in the world. You can choose to have sent immediately, or to have it sent some time in the future. There is also an option to include a photo with your telegram.

What's awesome is that the telegrams they send look authentic and timeworn. It will definitely be something your boyfriend/girlfriend will show off to their family and friends and cherish for a lifetime. It is an inexpensive service - sending a telegram costs + postage (worldwide) costs only $6.45 USD which is well worth it for a priceless keepsake.

I contacted TelegramStop and they offered us a coupon to give to our site visitors and LFAD members. If you use coupon code LFAD you'll get 10% off!






---



Click here to view


KindNotes offers jars of messages enclosed in miniature decorative envelopes for the recipient to open each day, or anytime they need a smile. A wonderful way to get through the times you are apart.

Each jar of messages is totally customizable - write your own messages, choose your jar, envelopes, and more. You can also select from their completed sets that are ready to send.







---


Click here to visit RomanceHer.com

This site has many UNIQUE romantic gifts. That's not the only reason why I'm suggesting it though. Frank got me a gift from this site for Valentine's Day 2009. He got me one of their glazed 24 kt gold roses. It is probably the most beautiful gift he has ever given me. And it's kind of ironic, since Frank thinks its funny to buy those cheap fake roses at gas stations for me whenever he gets the chance. But now I have a real rose that is preserved and I can treasure it for a lifetime. He got it in my favorite color, purple (of course). To the right is a picture of it with one of our "Love knows no distance" bracelets (felt like proving myself!)

They have many other very romantic gifts, check them out! RomanceHer.com


"I meet you in every dream" pendant pictured at the left. A perfect long distance gift.
---
---


Click here to visit Memeoirs.com



Turn your emails (and more!) into a book!

Memeoirs can take the emails you and your love have shared while apart and turn them into a keepsake you can keep forever!

What is so great is that you don't have to tediously edit and find all the emails between you and your bf/gf; the Memeoirs webapp does it all for you. Just choose which contact and the time frame - they will automatically compile those emails in chronological order and even remove email signatures and reply strings. Chapters = seasons of the year.

Don't worry if you have a lot of long winded emails... your book can be 30-450 pages long! Choose paperback or hardcover.

Compatible with: Gmail, Hotmail, Facebook messages, and Whatsapp messages.


---




Click here to visit SendAPantyGram.com




V-Day Sale!
Save $5 with coupon code save5now

Are you looking for a gift that is sexy and make his heart flutter from a distance? SendAPantyGram.com is probably a site you'll want to check out.

From the site...

The Package He will be completely surprised when he pulls a very romantic heart shaped pair of sexy red panties out of his black envelope. Who would send him such a thing? You have his complete attention!

The Message What will he do when he reads his personal message from you printed on his very own gold card attached to the panties? Imagine the look on his face when he realizes he has a secret admirer! The best part is he has no idea this romantic gift is from YOU!!! The mystery is driving him wild.

The Tease The message card tells him to go online for the rest of his personal message. He can't wait to find out who sent him the best gift he has ever received. Make sure you tell him anything you want...go ahead, tell him how you really feel. When he reads your private online message at sendapantygram.com, you are automatically sent an email letting you know your guy has opened his online message. This way, you'll know when to expect his call! He is bound never to forget this romantic gift experience or the one who sent it to him: YOU!

I especially like the fact that they are mailed annonymously. Can you imagine if you sent your own underwear in the mail and it was delivered to the wrong address? :P
---




Create fonts in your own handwriting that you can use in your instant messaging program!

Check out the example that on the left that one of our members, garnet, sent me after she and her boyfriend created their custom fonts using YourFonts.com

Seeing the fonts in each of your own handwriting is the perfect personal touch to a otherwise impersonal instant messaging program!

Installing your own fonts in your instant messenger is probably one of the best ideas that long distancers can do with YourFonts.com

But this is just one way to use your custom fonts. There are tons of possibilities... use you and your parnter's fonts for scrapbooks, gifts, art, etc...

Frank and I had to try it out for ourselves! Here's how our fonts came out:


---




Click here to visit Proflowers.com

Frank has gotten me roses from ProFlowers.com, and they were excellent (see pictures below!).

We highly recommend them, not just for quality, but for their prices too! Click here to check out ProFlowers.com

If you need to send flowers somewhere other than the USA, click the "International" link located at the top of the Proflowers home page.



Before and after blooming:

| | |
| --- | --- |
| | |



Teleflora is also highly recommended by long distance couples that have emailed us.
---


Click here to visit LoveCoups



LoveCoups is a such a cute gift idea. This website lets you create a custom and personalized coupon book for your sweet heart. You can customize the characters in the book to look like yourself and your partner and even change facial expressions and body postures for each coupon. You can also edit the text and customize what each coupon is for. As a plus they even have LONG DISTANCE RELATIONSHIP coupons!

All pages are perforated so you can rip them out if you would like (I'd keep them all together in book form though) and on the back of each page is a place to write the date the coupon was redeemed, making this a wonderful keepsake!





A LoveCoups coupon book customized for Frank and I:


It was fun going through the coupon book and seeing characters of ourselves! Lots of smiles and laughs :)




---


Click here to visit RomanicosChocolate.com


Can you believe this sushi is chocolate!?! Click to order:

I love getting chocolate from Frank. He knows it's a go-to gift when he doesn't know what to get me because not only is it one of the best things in the world, but because chocolate can say so many things... I love you, I'm sorry, thank you, you're awesome...

Romanicos Chocolate will make a delicious gift! They have a great variety of chocolate including chocolates for vegans and vegetarians, lactose free chocolate, and gluten free chocolate.

Here's what Romanicos has to say about their chocolate:

Romanicos Chocolate Is 100% Free Of Preservatives Putting all chemicals aside, we work with our hands and use nothing but natural ingredients to elaborate our products. The cocoa beans used in our chocolate are grown in the wild, picked manually, dried under the tropical sun of Venezuela -known by many top chocolatiers to be the best in the world- Our confections passed through a strict quality control process until it leaves our store, directly to melt into your mouth.

Top Quality Natural Ingredients

Top quality ingredients are at the core of our elaborating process. Our products do not include preservatives or additives in order to be kept artificially fresh. Our chocolates and truffles are in high demand, so once ready they are immediately shipped and delivered. We make fresh products on a daily basis.

Our Service Is Unique And 100% Guaranteed

Romanicos is the most luxurious chocolate available in the market, renown for its hand made truffles and the delicate art reproduced in the Chocolate Art Collection. All chocolates come beautifully packaged with personalized note cards, making them ideal gifts. Quality service is key to us and we go the extra mile to ensure customer satisfaction. There should never arrive any old or melted chocolate. If this is found to be the case we will refund the purchase.
---
---
| | |
| --- | --- |
| Click here to visit CafePress.com | Create something unique... CafePress.com is a site where you can create custom t-shirts, hoodies, and more. All you have to do is upload an image you've made or a picture and resize it on the product of your choosing. Pick what you want to put it on, then leave the rest of the work up to them. Check out CafePress.com. (very simple and easy to use! not to mention lots of fun!) |
---


Click here to visit LoveBookOnline.com



The LoveBook is a heartfelt gift that lets you express your love in unique personal way. This site allows you to publish your own book of reasons why you love someone. You can customize the text and images of the book to make the book more personal: you can even create long distance relationship specific pages! Each page lists a single reason why you love them and cute stick figure art to illustrate the message.

LoveBooks do not have a page limit so you can add as many pages as you like for one flat price.


---




Click here to visit GiftTree.com

GiftTree.com has a lovely selection of gifts including baked goods, flowers, gift baskets, jewelery, and even balloons!

We especially love their extra large fortune cookies with custom messages.
---
---


Click here to view

Make a love letter satchel! I came up with the idea to create a "satchel" for my very own love letters, photos, greeting cards, movie tickets, bus tickets, etc from my relationship with Frank.

I've put together an ebook with a step-by-step picture guide so you can make your own! :) It's only $5!

LDR gift tip? Make one for your partner and promise to send weekly/monthly love letters and cards!

Click here to see love letter satchel pictures!
---
Christine suggested I include this on the site. I found the idea funny but also know it might be something a lot of LDR couples would want to try. I like to stay G-rated, but since this is X-rated, I'll just give you the link: Clone-A-Willy

Note, there are other "varieties" including brown skin tone, soap, chocolate, candle, and glow-in-the-dark. Just do a search on the site.

Check out these reviews by long distancers on adamevetoys.com!

Must have for long distance relationships!!!

"I have bought two of these kits. My original purchase was for my husband and I. He was leaving for Army Airborne School for several months. We had no problem making his clone-although I recommend at least two people for the process. While he was working on staying hard, I was getting the temperature just right. It looks just like my husband. I loved it sooo much, I recently purchased the kit for a friend for her bachelorette party. A month after their wedding, he will be spending a year in Afghanistan. This is the best product next to the real thing!!"

happy military wife

"i highly suggest this product for every couple to try. after reading reveiws i was worried about buying it. my husband is on a 12 month tour to iraq,and learning from him doin a 15 month tour last year i wanted to try and make this kit, he was recently home for R&R and we had not 1 problem with the kit,He an i are very satisfide on how wel it turned out.Whoever idea it was to sell this kit is my hero for the next 8 months :D"
---
---



Click here to visit BustedTees.com




"Because relationships are a marathon, not a sprint."

If you're looking for a little LDR humor, check out this Busted Tees t-shirt. I just love this "long distance relationship" t-shirt. It comes in both mens and womens sizes.

Click here to see BustedTees Long Distance Relationship

If your boyfriend or girlfriend is into funny graphic t-shirts, Busted Tees is perfect just for that.

Visit BustedTees



---


Click here to visit Skype.com

A while back we asked people in long distance relationships to tell us what online communication tools they used and recommended for other LDR couples. Skype was by far the most suggested tool.

It isn't a secret that one of the best gifts you can give to your partner is a gift that will make you both feel closer and not so far apart. The ultimate gift is trip to see them, but if you can't afford that, you can probably at least afford a webcam or a Skype phone (for you international couples out there looking for a cheaper way to talk, a Skype subscription is tons cheaper than making international phone calls on your landline or mobile phone).

Make free Skype-to-Skype phone calls
Video chat
Send instant messages and share files with other Skype users
Make low-cost calls to landlines and mobiles (as low as $12/mo for unlimited calling)




Click here to download Skype for free!




To purchase a subscription or Skype products visit:
USA Skype Store or the Skype Store Europe.
---



Click here to visit Bake Me A Wish

Send cake! Are you going to miss your boyfriend/girlfriend's birthday? I have missed all four of Frank's birthdays since we have been together. This year I baked him cookies. It would have been a lot harder to ship a cake! Bake Me A Wish can handle all of that for you. I wish I had known about it sooner. Their cakes look insanely delicious.

Getting a cake in the mail for your birthday would definitely be a surprise. :)

They also can ship cakes to APO/FPO addresses! So you can make sure your military man/woman gets a cake for their birthday :)

Click here to visit Bake Me A Wish!