Just because you are apart on Halloween doesn't mean you can't have a fun date night! Get your webcam, phone, and use the tips below to inspire your own Halloween-themed date night! It doesn't have to be Halloween to have a Halloween-themed date night – most of these ideas are fun any time of the year!
---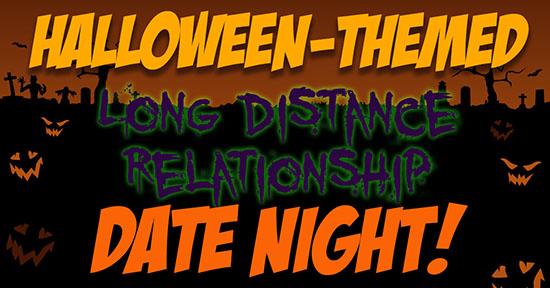 ---
1. The food. It's not a date without food! You can find a recipe that you both can easily make together over your webcam or Facetime. Think fall-themed flavored recipes such as pumpkin, squash, or sweet potato. It doesn't necessarily have to be a meal – you could make candy apples or orange-dyed Rice Krispie treats! For a beverage have apple cider (or hard apple cider!) or pumpkin spice lattes would fit the theme nicely too! Of course Halloween wouldn't be Halloween without candy so indulge in your childhood favorite Halloween treats – your boyfriend/girlfriend could try your faves and vice versa.
2. Read scary stories. Find a spot to cuddle (in the dark of course) and read scary stories to each other over the phone. There are many websites online that have scary ghost stories. Check out these spooky stories. Also check out these
ghost sightings stories with pictures!
3. Watch a horror movie. To really get in the spirit, stream a horror movie and watch it together simultaneously. If that is too scary for one or both of you, watch Halloween classics like Hocus Pocus, The Nightmare Before Christmas, and It's the Great Pumpkin Charlie Brown. Here's a playlist of Halloween cartoons on Youtube.
4. Virtual Haunted House. Frank and I did this together one year while we were long distance. We "toured" virtual haunted houses online together! Here are 3 great ones:
Interactive Virtual Haunted House – Make sure you click this link at the same time because it will start immediately.
Halloween Is Here Haunted House
5. Play a game together. Here's an online game that is well suited for Halloween and is based on the Salem witch trials. Thank you Paige for this online game idea! She says, "An online game my boyfriend and I play together all the time is Town of Salem.
There is a learning curve to it and you play with the public so that's something to consider. It's all strategy and persuasion. Just make sure you know their username and add them as a friend then create a party and invite them and you'll enter a round together."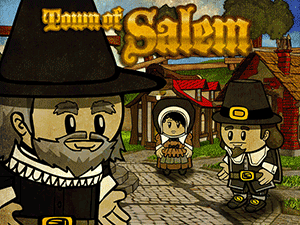 6. Online Ouija Board. Use a screen-sharing app like ScreenLeap and use an online Ouija Board to conjure spirits (well, not really… right?). We like this online virtual Quija Board.
7. Carve pumpkins together! A whole Skype date night can be made out of carving pumpkins together! Put on a fun Halloween movie and carve your pumpkins (there are some awesome free pumpkin carving templates here). Make it extra fun by keeping your jack-o-lantern creations hidden from the webcam's view until you are both finished.
If you're not able to carve real pumpkins together, you can carve virtual pumpkins here.