Who wouldn't trade an iTunes gift card, a pair of socks, scented candles, and Aunt Susan's fruitcake for spending Christmas in the arms of their significant other?
Boldloft's "Merry Christmas" couple coffee mug set, part of the iconic When In Love collection, is a wonderful reminder that you are closer in spirit than you are in miles. The set features a happy couple on one side and the phrase, "All I want for Christmas is YOU" on the other. It is the perfect size for your hot beverages, microwave and dishwasher safe, and comes in gift-ready packaging.
The sentiment on the mugs, "All I want for Christmas is YOU," couldn't be more accurate for a long distance couple on Christmas morning. It is hard to be away from the one you love on Christmas, when all you want is to be together. These mugs are an encouraging reminder, that one day, you will both make that wish come true. We recommend this set as a gift where you send one to your significant other with the goal of reuniting your mugs in the future. Or, send them both to your significant other.
Go here to purchase this "Merry Christmas" Couple Coffee Mug Set 🙂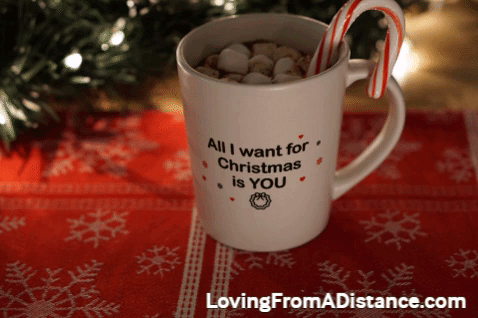 "Merry Christmas" Couple Coffee Mug Set
The "Merry Christmas" Couple coffee mug set from Boldloft includes two stoneware ceramic 14oz mugs that can stay together or can live apart. What better way to start each day but to hold a dishwasher safe mug that connects you to your loved one no matter how far apart you are.
Each mug has a minimal, clean, adorable design made with eco-friendly ink. Michelle and Frank have had their very own Boldloft mugs for over 5 years. Believe us when we say that using this mug can make you feel closer to your significant other. As you use your mug, knowing its other part is in your love's hands somewhere else in the world, you just feel like you're together.
Also available:
More From Boldloft
Easy Hot Chocolate Recipe – with real chocolate!
Here's the recipe we used to make the hot chocolate that's in our Boldloft "Merry Christmas" mugs set photo.
Ingredients:
1 cup milk
2 heaping tbsp chocolate chips (we used semi-sweet)
1 tsp sugar
pinch of salt
Heat milk in microwave in your Boldloft mug for 1 min 30 sec. Remove and add chocolate chips, sugar, and salt. Stir until chocolate is mostly melted. Return mug to microwave and heat for another 30 sec. Remove and stir. Enjoy!