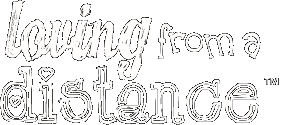 As seen in LUX Woman Magazine!

*** WE SHIP WORLDWIDE! ***
Love knows no distance™ bracelets have been very popular among long distance couples across the globe!

Many have written to us to tell us how happy they are with their bracelets. We always hear things like "My girlfriend/boyfriend and I never take them off!" Many couples loving from a distance wear the bracelets as a "promise" to be strong during the times they are apart.
Every bracelet is embossed with the message: "Love knows no distance" (heart image at end)



100% silicone



Keychain option available (see below)



Color options: Royal Plum (purple) and Chocolate Brown.



Gift message option:If you would like to have a bracelet sent to your long distance boyfriend/girlfriend, there is an option to include along with it a special message!



Shipping: We ship worldwide! Including military addresses! Ship 1 order to 2 addresses! See below for more details.



Payment: You can pay by credit/debit card through our Paypal payment page or with your Paypal account. We can also accept cash, money orders, and checks by mail.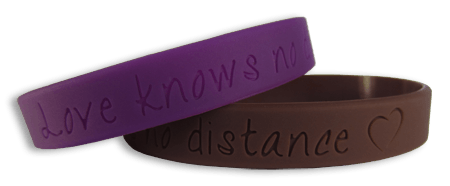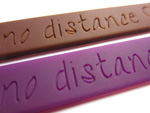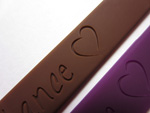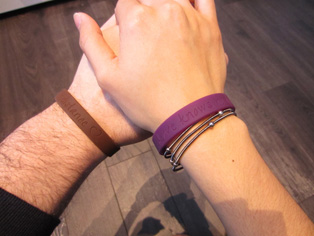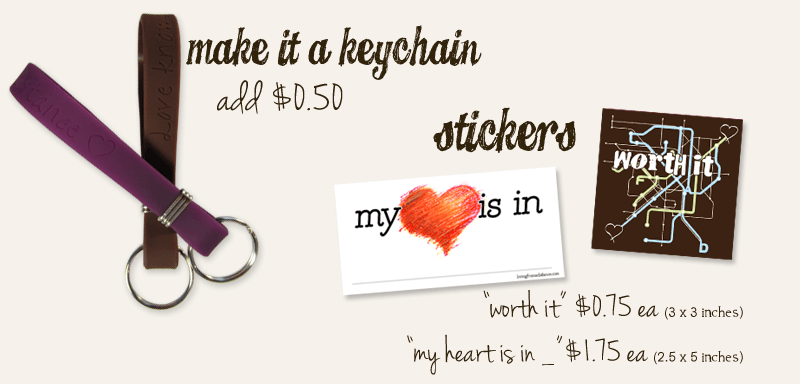 Keychains:
Keychain parts can be easily removed and put back on so it can be worn as a bracelet and turned back into a keychain.
Stickers:
"Worth it" stickers have a laminate finish and "My heart is in _" stickers have a matte, laminate free finish so you can write on them :)
Want to order just stickers? LFAD Sticker order form



Submit a picture of YOUR bracelets! Email us at info@lovingfromadistance.com :)
Read more customer reviews over at the Loving From A Distance forum

Your purchase helps keep this website running! :)
Anything extra goes towards our future together!
Pay using your credit/debit card or Paypal account:
Fastest option! Your package(s) will be mailed within a day or 2
of placing your order (sometimes goes out the same day).




Pay by mail! Print out our order form:
Send money order, check, or cash. Make your gift more personal
by including a handwritten message, drawing, spray with
cologne/perfume, use your own stationary, etc.

Bracelets: $4.50 each Keychains: $5.00 each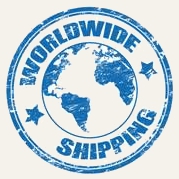 We only charge $2.60 for USA addresses (includes US military, Puerto Rico, and Guam) and $2.88 to international addresses (shipping charges reflect current USPS rates as of January 26, 2014, cost of packaging, package tracking (US addresses only), and insurance which will cover a replacement to be sent to you in the event your package gets lost in the mail).



Ship your order to 2 different addresses: Our order form lets you enter 2 different mailing addresses. You can send half your order to yourself and the other half to your partner!



Estimated shipping times: US addresses 2-5 business days. International addresses 5-10 business days.



I (Michelle) will personally ship your order and will package and ship your order within 1-3 business days of receiving your order (sometimes the same day if you happen to order early on a day I am shipping). I do this all by myself (I'm not a big company with a team to help me, I'm just your average gal!) so please understand it could take a couple days for me to mail your order.



Any delays (if I'm away and not able to ship stuff or I run out of packaging or bracelets) will be noted in green text above the order buttons above and on the order form along with an estimated date of when I can resume shipping.



Package tracking is included for USA addresses.
Click here to order now!
If you have any questions that aren't answered under the FAQ below, please email
info@lovingfromadistance.com

I'm sending payment by mail. Is it okay if I send cash?
Yes, you can send cash! Please follow the instructions about sending cash on the printable order form.


What type of payments do you accept online?
We use Paypal to handle transactions. You don't have to have a Paypal account; you can use a credit card or debit card (with a Paypal accepted logo.... eg. Mastercard, Visa, etc..). If you can't pay online, you can also send an order form by mail and pay by money order, check, or cash.


Can I get a bracelet in a different color other than the ones listed?
No, the colors listed above are the only ones that are available.


I'm having trouble downloading the printable order form.
No worries! Please email me at info@lovingfromadistance.com and I'll email it to you :)


Can I have a different message put on the bracelet?
No, we have just the one message "Love knows no distance ♥" We do not deboss the bracelets ourselves, we custom order them in bulk. So we can't take special orders.


How long will it take to ship?
Shipping time varies depending on where you are sending the bracelets. Bracelets are shipped by USPS First Class. There is tracking information for USA orders. USA addresses typically take 2-5 business days to ship to, all other international addresses take 5-10 business days. If you have a US address, you will be sent an email with tracking info from Stamps.com as soon as the label(s) is/are printed for your package(s).


I ordered, it's been x days, and I still haven't received my package.


If you live in the US: Packages not received 14 business days after they have shipped are eligible for reshipment and a signature will be required. Please email me at orders@lovingfromadistance.com. Customer will pay reshipping costs if they are responsible for providing an incorrect or incomplete mailing address.

If you live outside the US: Please email me if you haven't received your package 30 days after shipment. Please email me at orders@lovingfromadistance.com. Customer will pay reshipping costs if they are responsible for providing an incorrect or incomplete mailing address.

**Important: Packages not delivered on time during extreme acts of nature (flood, snow etc.) will be delayed. Delivery times will be extended during these events. Deliveries may also be delayed during the busy holiday season.


I have a special request for what is included with the bracelet I send to my boyfriend/girlfriend. (eg. include a picture with my message, message font preferences, etc).
Email us at info@lovingfromadistance.com to make a special request.
Click here to order now!