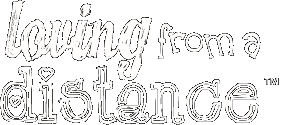 Want to share your long distance relationship story? We'd like to hear it!
Click here to fill out the submission form
<< Back to stories
My Honey & Me
By Farron
&nbsp 2/09/2009
My name is Farron and my boyfriends name is Silviu:) In the year 2006 in September, I was browsing guys on a site called Hi5.com. I saw Silviu's picture and his profile, and I loved it very much. He's from Romania and he sounded interesting. I told him he was cute. And a couple days later, he said he liked my pictures too. :)
We started using yahoo messenger and we would talk all the time. It was fun. He was the only man I met online that was kind and respectful. The guys I flirted with online, before him, were immature and not nice. So as I began my senior year at high school, I would talk to him at nights and sometimes in the day. Then he wouldn't appear online as much, and I was sad. Sometimes he would travel and go places and wouldn't be online for a month or so. I thought it was over, because he didn't come online anymore.
Well I still kept him on my Yahoo messenger list, because he always would message me and email me still, every couple months or so. He text messaged me "Merry Xmas, I love ya" on my phone in December 2006. I was very happy and texted him back :)
A couple months passed and he would come online here and there. I still didn't feel a strong connection yet, because we didn't have webcams yet. He couldn't afford one, and my dad wouldn't let me have one. :( Then in April, when it was Easter, he gave me all these offline messages on Yahoo messenger saying he would do anything for me, and he couldn't live without me, and that he loved me. :) :) I was really touched that he cared for me much and that he loved me. :) Then that summer I started to talk to him some more.
In December 2007, we got to see each other on webcams for the first time :):):D I saw him first and I loved seeing his expressions and movements, I fell in love with him even more. :):D:D It was very exciting to bring our relationship to a different level :) Then he was begging me to ask my dad for a web, so I did, and my dad kept on saying no.
Then I started giving Silviu videos all the time of me from my phone. He loved them. :) The first video I gave him , was me telling him " I love you Silviu" Then I told my dad that He was very important to me and asked him kindly for a webcam, and my mom talked with my dad, and they decided to let me have a webcam :) I was excited. Then Silviu saw me for the first time on web, and loved it very much also :) :D It was cool, that every day I got to see him move around and different things he would do. Our convos used to be like 30 min, and then our convos would last for 3 hours or more :D we kept on getting to know each other more and more each day! :) He gave me a video too of him and his friends :) We would send each other emails, e-cards, and I sent him a X-Mas card in December with my pictures and Ziploc bag with a lock of my hair in it :) I also gave him a Valentines card and a surprise card that told him 100 I love you's and 100 things I loved about him :)
So then in January he phoned my house phone and I got to hear his voice for the first time. I loved it :) His Romanian accent is so amazing :) At first, it was hard to understand him, but as we talked more and more on the phone, I got used to his voice and slurs of his words :)
As time went on, my dad told me about Skype. So then me and Silviu would use that ;) It was much more clearer on webcams, and we could hear each others voice very clearly :) It was very cool :D:D Silviu has given me love songs and flowers that filled up my whole computer screen. He is the sweetest man in the world. He is so funny and I love him so much <3 When I first talked to him in the year 2006, he was talking to me in a Romania computer cafe. Then he moved to London with his friends and stayed there awhile. And before he went back home to Romania, I gave him an ID bracelet that has his initials on the front and behind is engraved, "I love you my Silviu always and forever, love Farron. " He appreciated the gift very much.
He proposed to me in November and I said yes, and he said he will propose to me in person when he gets here. It will be real and very romantic :) Then in December 2008, he moved back to Romania to visit his family. :) I have met all his 4 brothers on webcam and talk to them also on Yahoo now:) I met his mom in the webcam too, and she waves at me now :) My family also waves at Silviu too when they are in the room :) Now Silviu is working on getting his driver's license and then he will get his visa, and then come over here :D:D:D yay!!!! He's hopefully coming in the spring. :):):) Our love is very strong, and we want to spend our lives together forever. Our patience will have payed off :):D I cant wait to meet him in person for the first time :):)D:D:D:D, it will be the best day in my life :):D:D:):)
Farron
<< Back to stories