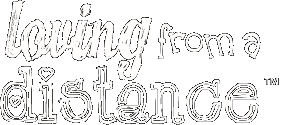 Want to share your long distance relationship story? We'd like to hear it!
Click here to fill out the submission form
<< Back to stories
Motivation from Yahoo! Answers
By Gabby
&nbsp 7/24/2008
Hello! I just wanted to share my personal story since you have helped me with my problem back two months ago in Yahoo! Answers.
Long Distance Relationship?

So, I am 19, a rising sophomore in an art college in florida, and the guy I speak of is 21. We went to high school together in California. We had art class together and back then I didn't really talk to him much but we goofed around [he had a girlfriend back then], so I didn't really let my tiny crush get any further than that because he was going away to college. But lately, I've been talking to him online and came to wonder about things and so to make the long story short, there was this one point in our conversation where he said, 'i would go out with you' and so that brought to my attention that there would be something there between us. So, question is- what are the odds of having a long distance relationship with him? I probably won't be able to travel until I graduate [which is in 3 years for me, 2 years for him], this would also be my first relationship with someone too- Would he be able to wait for me? Think he'll move on? I need help!

Additional Details

By the way, I still don't know if he likes me or not, i'm still in the process of trying to guess if he does or not. We do video chats and stuff now and then and he seems like he does..?? HELP PLEASE. I already went through a heartbreak and I don't want to be heartbroken once more. It's too painful.. should I ask what he feel about me? how should I bring that up casually?

Best Answer - Chosen by Asker

Well, it definitely does sound like he likes you if he said he would go out with you. I am in a long distance relationship too and have been for 2 years. It was also my first relationship, and it started out as a long distance relationship. So it is possible. It is ashame that you are on separate sides of the country though. So it makes this tough to answer. It might be possible if you could see each other more. 3 years would be too long to wait to see someone. If you find out that he really does like you and could start a serious relationship with you (any long distance relationship that starts out long distance, has to be a serious relationship, because it takes serious effort to make it work). So my suggestion if you both want to be in a LDR? If you don't have a job, get one part time, earn a little extra money and save it to pay for trips and split the costs of airfare to see each other at least 2-3 times a year. Maybe meet somewhere in the middle. That is the only way I could see this working, because 3 years to wait is a lot to expect of a person at the very start of a relationship. Is it not possible to go home during school breaks?
I remember you telling me that I should consider the LDR, and I must say that it worked! I took your advice and I finally spoke out to him [through video chats online] that I liked him and he said yes, and it was mutual for one another. So, I've been together with him a little over a month now and we're happier than ever. I also remember you telling me that we could save up to visit each other. Guess what? He is coming to visit me soon during the fall of this year! I honestly didn't think he was going to say yes to the ldr, but he is committed and so am I. I am super glad I'm doing this. Great experience and I learned that a key to a great relationship is trust, and communication. Some of the things we do to keep in touch is see each other through video chats (thank youuuu technology!) which is extremely helpful. On the other hand, I am really glad you helped me out with your lengthy advice on yahoo answers and I hope for the best for you!
Gabby
Update 9/15/2008
"Since the last time I wrote to you guys, it's been 4 months since i've been together with my bf in California [im florida just to refresh the memory], and I wanted to share a digital painting I did for my boyfriend to perhaps post on your website for all to see. I am an animator [currently in art school], and I just wanted to share this drawing to all of the LDR couples because it trully is amazing :)"
Click on Gabby's image below to see her digital painting: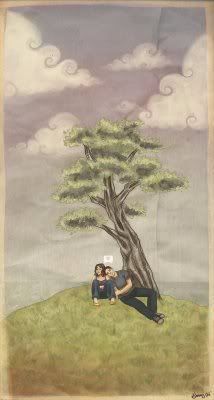 Click here to view her art blog
<< Back to stories