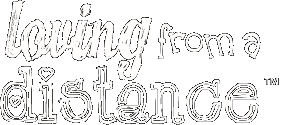 Worth it reveal/mad libs - Broadcast your self LIVE
Can you see the L, F, A, & D? :)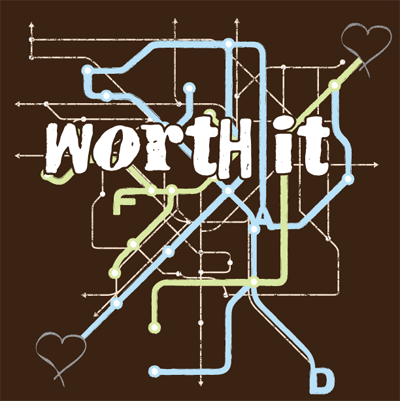 PLEASE NOTE! The background map design behind "worth it" has a faded effect and is not as bright as it is in these pictures. The hearts are screen printed with a silver foil ink.

Click the image above to view larger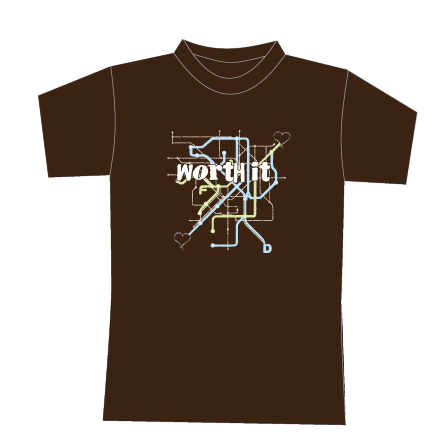 Free matching 3x3 inch laptop sticker included with each shirt ordered!
We are SO excited to be able to offer LFAD t-shirts! So much thought was put into this. We wanted something everyone would not mind wearing (not too cutesy!) and something that symbolized a long distance relationship without geographical representation so the entire range of long distance couples (from hundreds of miles to thousands of miles away) could relate to it and find meaning in it.
We wanted it to be subtle enough so anyone could wear it in public without blushing! But not so subtle that if someone really looked at it that they wouldn't figure out what it meant.
So what is the design about?
The background design is a
transit map
:) It symbolizes distance, travel, as well as complexity (what LDR is simple?).
The map part (not including the hearts) is faded (not bright like it is in the images) so the words "worth it" and hearts pop.
The
silver foil hearts
in the design represent two lovers, the "silver lining" in a long distance relationship. Afterall, it is your partner that makes your long distance relationship
"worth it."
The distance in a transit map is not defined, it can represent hundreds or thousands of miles. So no matter what distance separates you and your partner, the design can still represent your relationship. (this is why we opted to not include globes or geographical maps).
The transit map doesn't only represent one mode of travel... it could be by train, plane, car, etc...
A simple design that anyone in a long distance relationship can relate to.
Available sizes: small, medium, large, x-large, XXL
100% cotton, preshrunk
Option to buy two shirts and ship to two separate addresses
Gift message option: Send a gift message! There's a crazy 3,000 character limit, so you can write to your hearts content.
Shipping: We ship WORLDWIDE! And to military addresses too. Shipping prices vary based on how many shirts get sent to one address and whether you are from USA, Canada, or other country (see form for pricing)
Payment: You can pay by credit/debit card through our Paypal payment page or with your Paypal account. We can also accept money orders by mail. Please email info@lovingfromadistance.com to learn how.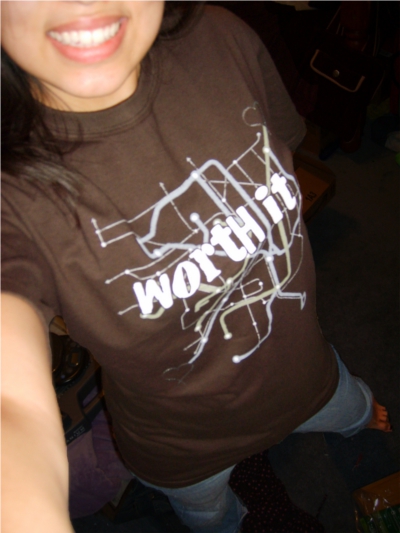 Size Chart: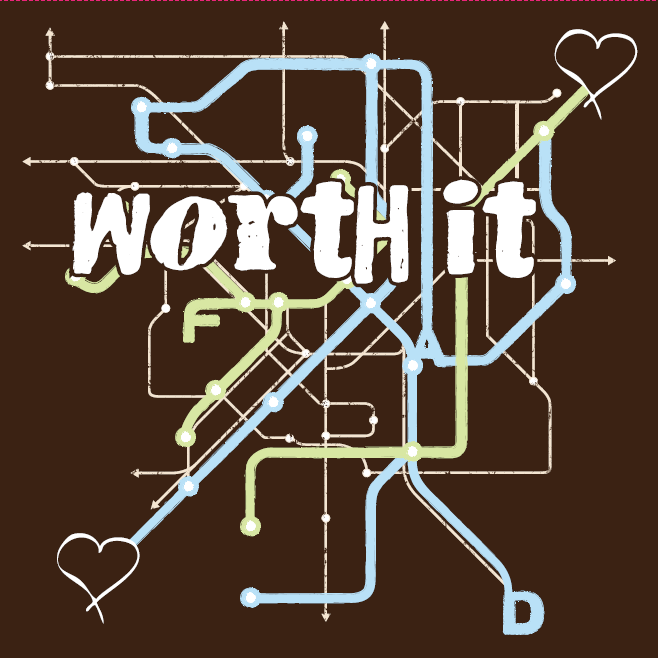 All shirt sizes are just $16.95 each (plus shipping and handling, as low as $4.52)

A "Worth it" laptop sticker (3x3 inch) will be included with each shirt ordered for free! (pictured at right)





We ship WORLDWIDE! Shipping and handling charges vary by location, please see form for pricing.
FREE tracking is included for USA addresses.
Stamps.com insurance ($1.58) is included in the shipping charge. In the event your package is lost or damaged you will get a replacement shipped to you free of charge.

Your purchase helps keep this website running! :)
Anything extra goes towards our future together!
Want to add more items to your order?
If you would like to order more than 2 shirts or add LFAD bracelets, keychains, lollipops, stickers, satchels, etc to your order, please email Michelle at
info@lovingfromadistance.com
so she can send you a custom invoice.
Fill out the form below to order up to 2 LFAD shirts: