Don't just read about overcoming the distance – Overcome it!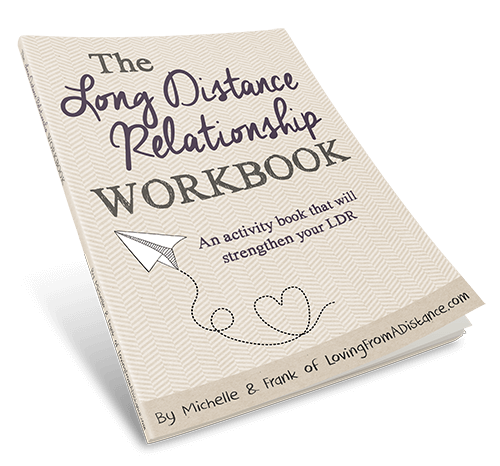 In The Long Distance Relationship Workbook, we'll give you the tools you need to help you survive your long distance relationship. We'll teach how to avoid the common problems in long distance relationships by guiding you through lessons we created.
Do people doubt or judge your long distance relationship?
Are you having trouble feeling motivated in your long distance relationship?
Are you hung up on trying to find ways to keep your love alive from a distance?
Do you have communication issues?
Do you just want to make it fun again?
             Then keep reading!
Not just for those with struggling LDRs…
Whether you are having problems in your long distance relationship, or are handling the distance well, The Long Distance Relationship Workbook has something to offer anyone.
The Long Distance Relationship Workbook has 12 assignments that will help you:
Gain confidence in your LDR

Work out common LDR issues

Prevent problems often seen in LDRs

Figure out your weaknesses and what what you need to work on to improve your relationship

Strengthen your bond

Build trust

And much more!
Who are we and why we wrote this e-book…
My name is Michelle and my boyfriend's name is Frank. We dated long distance from April 2006 to July 2011 and have helped hundreds of long distance couples on our long distance dating advice website, LovingFromADistance.com.
Frank and I came up with the idea to make a fun, "school-like" workbook to help others in long distance relationships like us and make it fun at the same time. Since 2008 we have been giving others long distance relationship advice and have helped people overcome some of the common LDR issues we have overcome ourselves in our own long distance relationship. We decided it was time to write our own e-book with simple assignments that would motivate long distancers like us, help them prevent common issues, and help others work on issues they are dealing with right now.
We offer more than just assignments – there is also lots of helpful advice along the way.
How long is the e-book?
42 pages!
What you need to view the e-book
Adobe Acrobat Reader. That's it!
How long does it take to receive the e-book?
You will be given a download link immediately after payment!
What other long distancers have to say about our workbook...
"Not only has The Long Distance Relationship Workbook given Kyle and I something else to do together from afar, it has also brought us to a whole new level of closeness! By doing the activities in this workbook, we have gained more insight into our strengths and weaknesses as a couple which has aided us in developing ways to improve upon our relationship. Michelle and Frank deserve a very big thank you for this well thought out and put together e-workbook, it really has helped us immensely!" – Erin

"I would recommend this book to anyone who is just starting out in a LDR or to anyone who has hit a rough patch in their relationship. I personally felt like the first chapter was written specifically for me. Having activities to do really allowed us to connect on a deeper level in a non threatening way. " – Erica

"I found the workbook very nicely laid-out and easy to understand, with well thought out topics and questions. ...some of the solitary assignments are really beneficial for partners who feel needy or like they are being taken for granted and the exercises for dealing with people outside the relationship would really help individuals who are lacking confidence or who deal with a lot of ridicule because of their LDR. The LDR Workbook would be a great way to break past communication issues and offers a new way to explore your relationship." – Miriam

"I know [the workbook] helped Mark and I in many ways. We are now communicating better, and we appreciate each other even more after doing this workbook. Thank you Michelle and Frank for putting together this wonderful e-book." – Kimmy
Get Your Copy of
The Long Distance Relationship Workbook!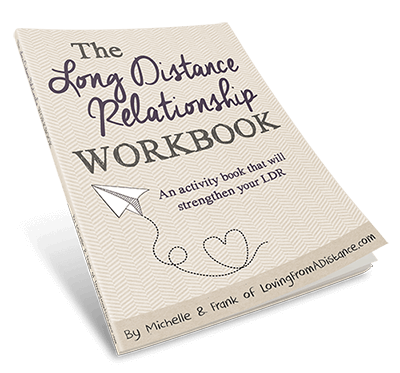 Download immediately after purchase
100% Satisfaction Guarantee or your money back!
---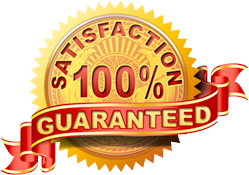 If you buy this e-book and you are not satisfied with its quality, you can get a 100% refund within 5 days of your purchase. Just email info@lovingfromadistance.com to request a refund and state the reason you were unsatisfied.