By: Erica
Martin and I have known eachother for years, and finally decided to get together on August 21st, 2012. Both from Michigan. Right now Martin is in California on base, and I am in Michigan planning things for our wedding in December. He is a Marine and I am just an average high school graduate.
Martin and I have been together for over a month, but have known eachother for about two years. We always talked about dating, but he wanted to wait to make it official in person. We pretty much were together, seems how we weren't seeing other people and just waiting for him to come home. He was deployed to Afghanistan in April of 2012, and got back to California the end of July of the same year. We talked everyday. He called me a few times and one time I could not answer because I was in class, but when I got the voicemail, it made me cry. It was the sweetest thing ever. That day when I got home I have a package in my room, it was from LC Gorenflo, it was full of letters and there was a pair of sweatpants in there. The letters were so sweet. I still have them in my room, in that same box.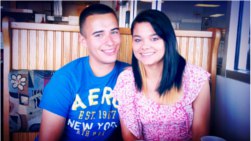 My days are always like this. I wake up to a beautiful good-morning text from my fiance. We text all day. Some texts are sweet, some are just silly and others are just normal text that most people texts, like "what are you up to", "how did you sleep", "what are your plans for today/this weekend". As the day goes on, we text and text. When he gets off work he calls me before he gets in the shower. After he gets out of the shower he gets on skype and we talk for a couple hours on skype about how the wedding planning is going and about what we are going to do when I go to California in November to see him and go to the Marine Ball with him. He tells me he has a very special dinner planned for me. Knowing I never got an actual proposal or engagement ring, and he told me he was going to do it when I am there, I know it will be that special proposal he has been talking about.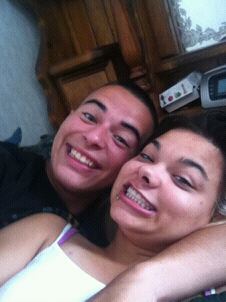 How the whole engagement came about was, we were talking about getting married and moving in together before and after he left. And I got a random text that said December 28th. I didn't know what he was talking about so I asked him what is December 28th. He said "That is the day my life is going to be complete. That is the day you are going to become my wife. That is the day we are going to be in each other's life forever. Is that the day you want to become my wife?" I instantly started to tear up and said yes that is the day. He had already told his younger sister about it. So she knew it before I did, but that is how it normally goes. To this day I talk to his mom and sister about the wedding and they are excited. His older sister is not to thrilled about it, but she has never liked any of Martin's past relationships, but his mom is talking to her about all of this.
So as I said I get a good morning text from him. We text a little bit, talking about what we have planned for the day. And it is always the same thing. He goes works out. goes to work, and I sit at home planning the wedding and waiting to talk to him. I will get a texts once in awhile, while he is running, that says "I love you baberz, I will text you when I am done running/working out"
The afternoons as I am with my family planning the wedding and waiting for his texts, I just talk to my family about how happy I am, and glad I have found someone that loves me for me. One day I got a call, it was Martin. "Babe, I went out and got us a car, you will love it, I am sending you a picture as soon as I get it to the base. It's a 1969 Dodge Charger silver. It runs a little crappy, but I am going to fix it up for you" I was so mad, he knows I do not like that car. I told him he can keep that and I will get my own car. A little while later he texted me and had said he was kidding, he got a 2010 Dodge Charger that is silver and sent me a picture of it. He always does silly little jokes like that so make my days better, because he knows how stressful it is to plan a wedding in 3 months.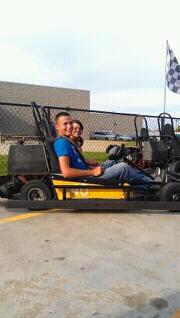 As of right now he is in California. I am here in Michigan trying to plan all of this stuff for our wedding. Every night I go to bed with the teddy bear he won me from the fair and my little Marine teddy bear right above me on the shelf to watch over me, with my cell phone right by my ear so I can hear it ring, his blouse hanging up right next to me, and wearing his dog tags and never take them off. We text till about 1 or 2 am (Michigan time). That is when things set in a lot and I just want to cry because I don't have my fiance here to cuddle with. He will text me silly pictures just to make me smile. We talk about what we are doing, normally I am watching shows on MTV and he is watching movies with his roommate and talking about the apartment we are getting together, because his roommate is planning to get married also. At about 1:30am he texts me and says "I'm going to go to bed babe cause I gotta be up early, so I'll text you when I wake up amor, sweet dreams, I love you <3" These sweet little texts puts a smile on my face right before I go to bed.
On Thursday it is field day, we hardly ever get to talk, seems how he works all day. He will text me a good-morning text, and text me when he can, but after he gets to his barrack after the day, he takes a shower, sends me a goodnight text and heads to bed. Thursdays are the hardest days, seems how we hardly get to talk. Our life is probably like most Marine S.O, a few different things here and there.
"Love Knows No Distance <3"
Erica