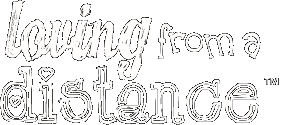 Page 4
Pin It
"Don't measure the distance; measure my love."
"When it rains it reminds me of you. Although 2000 miles away is so far away, I still always walk outside in the rain and kiss it just for you. It never fails me. The rain will always come and I'll always love you. The next time you see a storm on the horizon, don't worry, it's just heaven doing me the favor of taking you my kiss. Walk outside and kiss the rain whenever you need me."
"Close together or far apart, you're forever in my heart."
"Missing someone gets easier every day because even though you are one day further from the last time you saw them, you are one day closer to the next time you will."
"Distance never separates two hearts that really care, for our memories span the miles and in seconds we are there. But whenever I start feeling sad, because I miss you, I remind myself of how lucky I am to have someone so special to miss."
"If the days allow us to see each other, memories will, and if my eyes can't see you, my heart will never forget you."
I WILL LOVE YOU...
As long as I can dream,
as long as I can think,
as long as I have a memory...
I will love you.
As long as I have eyes to see
and ears to hear
and lips to speak...
I will love you.
As long as I have a heart to feel,
a soul stirring within me,
an imagination to hold you...
I will love you.
As long as there is time,
as longas there is love,
as long as there is you,
as long as I have a breath
to speak your name...
I will love you,
because I love
you more
than anything in
all the world.
--Bebita
"Every minute feels like an hour, every hour feels like a day, every day feels like forever, But I will wait forever and a day for you xoxox"
"On a silent night when friends are few , I close my eyes and think of you, A silent night, A silent tear, A silent wish that you were here ...... Miss you every minute xoxo"
Whenever I'm alone with you
You make me feel like I am whole again
However far away, I will always love you!
Love Song--311
"The stars lean down to kiss you
As I lie awake I miss you
Pour me a heavy dose of atmosphere
'Cause I'll doze off safe and soundly
But I'll miss your arms around me
'Cause I wish you were here."
<< BACK 1 2 3 4 5 6 NEXT >>

100 Activities & Ideas for LDR Couples
True LDR Stories
Love knows no distance
Love Letter Gallery