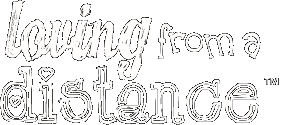 104 Long Distance Activities & Ideas and counting!
Not your typical list of long distance activities...
People in long distance relationships can have a hard time staying connected, because couples are limited in what they can do together. Many are limited to phone calls, emails, instant messaging, and texting which can become a bit humdrum over time, if you ask me. It is important to keep things interesting. Here is a list of things you can do with your boyfriend/girlfriend as well as things you can do for them from a distance.
The ideas get more interesting as you go through the list!
Be sure to
join the long distance relationship community
on Loving From A Distance to get notified when this list gets updated!
We're not stopping at 104!
~ Michelle & Frank
PAGES 1 2 3 4 5 6 7 8 9 10 11 NEXT >>
1. Watch movies or TV shows simultaneously together!
This activity takes the #1 spot on our list because it is the activity that Frank and I LOVE TO DO THE MOST whenever we are apart. There are various ways of doing this. Most couples like to have contact while watching a movie together and do so over the phone and/or instant messenger and/or on their webcams :) You can each go out and physically rent the same movie and watch it together or you can access a streaming movie online.
Frank and I both have subscriptions to Netflix. I bought Frank a subscription as a gift when I got one for myself.
Some other places you can watch movies and television shows online:
YouTube and Amazon both offer movies you can rent online. Use the links to be taken directly to their online movie rental/video on demand pages. Frank and I have tried both and they work awesome :D


2. Send your boyfriend/girlfriend flowers!
There are lots of websites that will deliver flowers for you, but if you don't want to spend money sending a real bouquet, you can send a virtual bouquet using this website. I just got done sending Frank some roses myself :)
Flowers2mail.com
. Another website that lets you send either real or virtual flowers is Virtualflowers.com
Want to send real flowers?
ProFlowers
has affordable prices.
Click here to see pictures of the flowers Frank got me from Proflowers.com
3. Learn new things about each other with 1000 Questions!
Think you have run out of everything you could say to each other? Try this.... When it's one of those days where you guys just can't think of anything to talk about, try asking questions. Here's a list of 100 questions to ask your love:
100 Questions to Ask Your Partner
. These questions are great discussion starters.
For even more questions check out
1,000 Questions For Couples.
I got this e-book myself and Frank during a rough time in our relationship. We were running out of things to say, and we were arguing a lot, mainly because we had nothing else to talk about. So I got this book and Frank and I spent hours one night asking each other the questions. It was so memorable, and we had more fun than what we had in a long time. The questions are split up into categories such as
Attractions, Past & Future, Money, Pets, Sex,
and tons more. You'll learn so much about each other, stuff you never knew and/or never thought to ask.
On a side note, by going through this e-book together, it will make it easy to bring up difficult questions you may have wanted to ask your boyfriend/girlfriend but were afraid to ask.
4. Share LDR bracelets.
Get one for your girlfriend/boyfriend, or for yourself too.
Display your long distance pride. A keychain option is also available. You can include a special message too!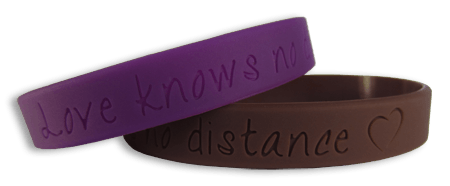 To check them out go here: LDR Bracelets
5. Send an e-card!
I know you've probably seen this suggestion before. Tired of lame e-cards? You'll get a kick out of
Someecards.com (Flirting section)
. These e-cards are hilarious! If you're easily offended by vulgar language, this site isn't for you. Want something a bit more romantic? Check out these
LDR e-cards
.
6. HoochyMail!
Okay, so maybe Frank doesn't like this one so much...
HoochyMail
is a website where you enter information and it automatically generates a story with your names in a MadLib type fashion. You choose the story level: sexy, x-rated, or off the wall. I did this for Frank, and cried laughing reading the story the website generated. I think Frank just stared at his computer with his eyebrows bunched up.
7. Say cheese!
Before Frank and I had webcams, I would occasionally take a picture and email it to him so he could see me. He always loved it :) If he was having a bad day they would cheer him up. Here are some other picture related ideas:
Smilebox is a program that you can download for FREE to create things with your digital photos including digital scrapbooks, e-cards, slideshows, photo albums, and postcards. After you make your creation you can send it for free by email to your loved one. There are a ton of designs and layouts to choose from.

Download Smilebox for free: Smilebox Inc.


Create online photo albums for each other. Some good sites: Flickr.com and Webshots.com


WordFoto.com has an "app that turns your photos and words into amazing typographic works of art."


Rollip.com will help you transform your pictures into classic photographs! Plus it is free to use!
8. Share a journal.
I wanted to do this with Frank, but he's lazy. I had this brilliant idea for us to share a journal. I would keep it for a couple weeks or so, and write in it everyday with my thoughts, and then mail it to Frank, and he could keep the journal and write in it, and it would just keep going back and forth. I thought it was a good idea. Maybe your boyfriends/girlfriends will be more willing participants than Frank! Other journal ideas? You could also each have your own journals that you can exchange. Or have an online journal. Here are a couple sites:
Xanga.com
and
LiveJournal.com
. These both have privacy controls so you can control who sees your journal.
9. What are you waiting for??? Get a webcam!
First of all, if you don't already have a webcam, get one! You'll be glad you did. For Frank and I, it was possibly one of the best purchases we ever made for our relationship! There are a bunch of ideas in this list that incorporate the use of video chatting.
Skype
is a free video chat service that is very popular with our LFAD Members.
Frank and I mainly use
GMail Video Chat
. We like that it lets us customize the size of the window and we can even increase the size up to full screen without much loss of quality.
Check out our Online Communication Tools page!
10. Play a game together.
Frank and I just love playing multiplayer games together online. Check out our list of multiplayer games that you can play with your boyfriend/girlfriend here:
Multiplayer Games for LDR Couples
Advance to the next page to see more long distance relationship activities and ideas!
PAGES 1 2 3 4 5 6 7 8 9 10 11 NEXT >>