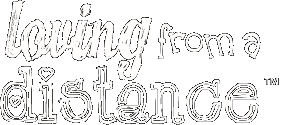 Be sure to become a member of our community on Loving From A Distance to get notified when this list gets updated!
Page 4
Pin It
<< BACK 1 2 3 4 5 6 7 8 9 10 11 NEXT >>
31. Play phone games.
Here are a few games that work well on the phone.
ABC game: Starting with the letter "A" think of a word that begins with each letter of the alphabet. When the next person goes they run through the letters that have words and add to that string of words a word that starts with the next letter. It goes like this: BF: Apples, GF: Apples, Ball, BF: Apples, Ball, Cat, GF: Apples, Ball, Cat, Dog, and so on... It really tests your memory. Have fun with it and only use words of things you have in the room you are in, or try another way to make the game themed.



21 Questions: We've probably all played this game before. Think of a person or an object. The other person gets to ask up to 21 yes or no questions. If they can't guess correctly the person or thing you are thinking of within 21 questions, they lose.



3 Word Story Game: Create a story together 3 words at a time. Take turns adding 3 words at a time to the story. The result is a silly obnoxious story that is sure to have you both laughing.



Name That Tune: This is based on the game show. Take turns humming a few bars of a song and letting the other person guess what the song is. Alternatively you could also speak the lyrics and have them guess the song.



2 Truths 1 Lie: The object is to tell 3 stories 2 true and 1 that isn't. The other person guesses which is the lie. it will help you learn new things about one another.



Another idea is to have fun asking each other riddles. Either come up with your own or find tricky ones online.
32. Cook and eat together.
Well sort of... I love this idea. Lehxi shared with me what her and her boyfriend do on their date nights:
"My boyfriend Neil and I are an ocean apart. (He is in England, I am in Michigan, USA.) On special days, usually Friday, we'll have a date night. A day or two before we'll plan a meal (We take turns giving each other recipes.) so that we can buy ingredients. We then dress how we would if we could really be together that night and eat together. This would be good with webcams, but neither of us owns one that works so we use chatrooms that we make ourselves. (iScribble, MSN, dA chatrooms, etc.) IMVU is also a very good idea for this, because you can dress your persona to how you would look. Try it! It's cute and fun, not to mention a good way to learn about the culture they're used to or one that they admire."
So as Lehxi said, take turns exchanging recipes or search for a new recipe online that you both want to try. Again I'll suggest
AllRecipes.com
. This website will adjust ingredient amounts when you change the serving size, so you don't have to worry about having a ton of leftover food that could feed a family if you're eating alone.
Now here's a recipe anyone can do with their bf/gf from a distance (it's super easy, quick, and fun)...
5 minute chocolate mug cake!
(on LFAD forum)
33. Make them laugh with ZingFu.
So what's
ZingFu
? "ZingFu is a totally awesome website that lets you turn your photos into funny Zings that you can share with your family and friends (or enemies)." On this website you choose a scene or picture that you can insert your own picture in. Then you upload your own photo, resize and position it, add a speech bubble and you've got yourself a Zing that you can send to your loved one. They have all kinds of funny scenes to choose from including some from movies. If you join you can choose to make your zings private or public. If you go to the link I included it takes you to their list of scenes you can choose from. Simply over your mouse over the options to get a preview of the images. Have fun creating a picture of you, your boyfriend/girlfriend, or one of both of you!
I just found this similar site that let's you impose your face (much like Zingfu) on their images. Check it out:
Photofunia
.
34. Frank Rocks Blvd.
AddLetters.com
has a sign generator with all kinds of images available to choose from (Billboards, restaurant signs, street signs, etc...). You just add the words and a little romantic imagination. And voila! Your image is ready to download and send to your loved one. They also have a Bart Simpson chalkboard generator and a newspaper headline generator.
35. Silly love letters.
I've suggested nice, handwritten love letters, but here's a website that is sure to make you laugh and is far from romantic, but is still so much fun.
BlueSwami
is a love letter generator that is absolutely crazy. Just submit your boyfriend/girlfriend's first name and hit enter and it will give you a short little love note. Surprise them and email them your generated letter.
36. Hug-O-Matic.
You answer the questions, and the hug-o-matic generates a sweet message for you to send to your love. They call it "hugmail." Every day they change the questions, so you can go back and send new hugmail. I just sent one to Frank, and for being a new user, they sent me a free mp3!
Hug-O-Matic.com
37. Share a special ring tone.
Set a special ring tone just for your boyfriend/girlfriend (different from your default ring tone that plays when others call), so when your phone goes off you know it's them. Your boyfriend/girlfriend can set the same special ring tone to play for when you call. If you are one of those couples that has a special song, use it! Even though this is a little thing, it is something you both can share, and can be comforting to know that when you or your boyfriend/girlfriend calls, your song is playing :) How to do it? Easy, just go to your contact list, scroll to their name and choose "edit" and you should see an option to select a ring tone for that contact. Want free ring tones? Try
CoolFreeRingTones.com
. Or take it a step further and create your own special ring tone using your own mp3 file. Download
Audacity
to cut a clip from the song you want to use, then email the file to your phone and your boyfriend/girlfriend's phone. And now you have yourself your own unique ring tone!
38. Create a personal crossword puzzle.
I did this for Frank once. I had so much fun thinking of clues and words, almost as much fun as Frank had trying to solve the puzzle. Here's a site that will create a pdf file of your crossword so you can email it to your boyfriend/girlfriend:
Crossword Puzzle Maker
39. Ask a psychic.
AllExperts.com
has a psychic category where psychics offer free answers to your questions. Ask them how your long distance relationship will end up and share what the psychics say about your relationship with your boyfriend/girlfriend. Will your boyfriend/girlfriend move to you, or you to them? How long will it be till you're living together? Ask one psychic or ask all of them and compare their answers. Each expert accepts a certain number of questions per day, so you'll see some of them maxed out. Go to the site just after midnight (Eastern time), and they will all be reset so they will all be available for you to ask a question. This is fun whether you believe in psychics or not. Just a word of advice, don't take anything they say too seriously! Totally for entertainment purposes only.
40. Send them a text. For free!
For a while, I didn't have a text messaging plan for my cell phone, but Frank did. Every once and a while I would send him texts regardless, and I'd get charged for all of them, and the month I ended up paying more than what the basic texting plan cost for only a handful of texts, was when I finally cracked and got a texting plan. For a while though I used a free online service which sends texts for free. Frank would send his reply texts to my email address. It worked very well. So I totally suggest it if you don't have a texting plan or if you're running out of your monthly texts. Cellphone service providers also may give your number an email addess, such as 5556667777@vtext.com (Verizon), so you can email to your boyfriend/girlfriend's phone a text that is free for you. Remember that both of these ways of sending a text are not free for whoever you're sending the texts to (if they don't have a texting plan).
Free texting:
If you text all the time check out
The Art of Texting
.
Advance to the next page to see more long distance relationship activities and ideas!
<< BACK 1 2 3 4 5 6 7 8 9 10 11 NEXT >>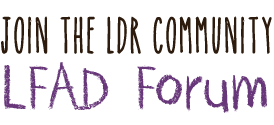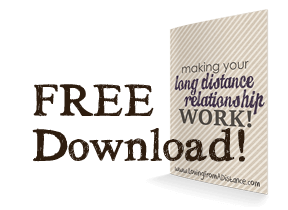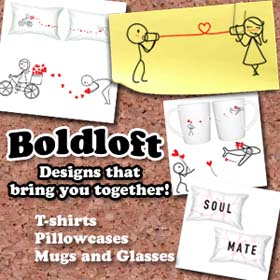 Catch My Heart Pillowcases
Busted Tees LDR T-Shirt: